The media responsible family
References
American Academy of Pediatrics. (2011). Media Use by Children Younger Than 2 Years. Council on Communications and Media
Pediatrics, 128
(5).
____
Bitzer, E. M., Bleckmann, P. & Mößle, T. (2014). Prävention problematischer und suchtartiger Mediennutzung in Deutschland – eine Pilotbefragung.
____
Bleckmann, P. (2006), Medienpädagogische Elternarbeit am Kindergarten unter besonderer Berücksichtigung der Themeninteressen von Familien mit aktuell oder potentiell nichtfernsehenden Kleinkindern. Universität Bremen: Bremen.
____
Bleckmann, P. (2012). Medienmündig – wie unsere Kinder selbstbestimmt mit dem Bildschirm umgehen lernen. Stuttgart: Klett-Cotta.
____
Bleckmann, P. & Mößle, T. (2014). Position zu Problemdimensionen und Präventionsstrategien der Bildschirmnutzung. Sucht, 60(4).
____
Buddemeier, H. (2002). Von der Keilschrift zum Cyberspace. Der Mensch und seine Medien. Stuttgart: Urachhaus.
____
Certain, L. K. & Kahn, R. S. (2002). Prevalence, Correlates, and Trajectory of Television Viewing Among Infants and Toddlers. Pediatrics, 109(4), 634-642.
____
Christakis, D. A. & Zimmermann, F. J. (2006). Early Television Viewing Is Associated With Protesting Turning Off the Television at Age 6. Medscape General Medicine, 8(2), 63.
____
De Jong, M. T. & Bus, A. G. (2002). Quality of book-reading matters for emergent readers: An experiment with the same book in a regular or electronic format. Journal of Educational Psychology, 94(1), 145.
____
Feierabend, S., Karg, U. & Rathgeb, T. (2013). KIM-Studie 2012. Kinder + Medien, Computer + Internet. Basisuntersuchung zum Medienumgang 6- bis 13-Jähriger in Deutschland. [KIM-study 2012. Children + media, computer + internet. Basic study on the media behaviour of 6- to 13-year-olds in Germany] (Forschungsbericht). Stuttgart: Medienpädagogischer Forschungsverbund Südwest.
____
Kirkorian, H. L., Pempek, T. A., Murphy, L. A., Schmidt, M. E. & Anderson, D. R. (2009). The impact of background television on parent-child interaction. Child Development, 80(5), 1350-1359.
____
Leung, L. & Lee, P. (2011). The influences of information literacy, internet addiction and parenting styles on internet risks. New Media and Society, 14(1), 117-136.
____
Lillard, A. S. & Peterson, J. (2011). The Immediate Impact of Different Types of Television on Young Children´s Executive Function. Pediatrics, 128(4), 644-649.
____
Mößle, T. (2012). dick, dumm, abhängig, gewalttätig? Problematische Mediennutzungsmuster und ihre Folgen im Kindesalter. Ergebnisse des Berliner Längsschnitt Medien. ["fat, stupid, addicted, violent?" Problematic media usage behavior and its consequences in childhood. Results of the Berlin longitudinal study media]. Baden Baden: Nomos Verlag.
____
Spitzer, M. (2014). Digitale Demenz – Zu Risiken und Nebenwirkungen digitaler Medien. In E. Teufel & W. Mack (Hrsg.), Aus der Krise lernen. Auf dem Weg zu einer weltoffenen und humanen Gesellschaft (S. 320): Herder.
____
Vandewater, E., Bickham, D. & Lee, J. (2006). Time Well Spent? Relating Television Use to Children´s Free-Time Activities. Pediatrics, 117 (2).
More from this Author/Topic/Category
Pia Doegl
2021-02-18T17:06:12-08:00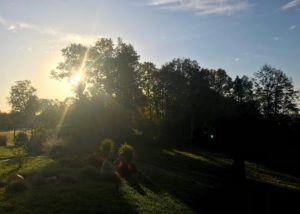 The sun with loving light - by Rudolf Steiner. Here is a strengthening verse written by philosopher and founder of the Waldorf School, ...